Are you filling up your cell phone storage with photos and you don't want to delete any because you want to be able to share them with people?
A better way to share would be to use a cloud photo sharing service that will store your photos online. You can send links to your photos for sharing and you can use an app on your phone to show them off.
Cloud photo sharing services have been around for a long time.
The most popular at one time were Shutterfly, Snapfish, and Google's Picasa web. Some people are now instead using general cloud sync services for their photos such as Dropbox. However, there are advantages to using the dedicated cloud photo sharing services.
Google Photos is the newest kid on the block – replacing Google+ Photos and, before that, Picasa web. Google Photos is free as long as you're storing photos taken with a camera with 16-megapixel resolution or less. Unless you're a professional photographer, that should be fine for you.
Google is working hard on implementing and enhancing an image recognition feature as part of its cloud photo sharing service.
We've had face recognition and geo-tagging for a while with photo applications. Google Photos can recognize other features in images as well. When I uploaded my marketing photos to the Google Photos service and did a search for "computer", it did quite well at finding photos of computers. But when I did a search on "umbrella", it found a photo of a camping tent instead. The search is pretty good, finding a photo of a deer correctly, and of a starfish, but missing most of my whale photos. It's bound to improve, and I'm looking forward to that.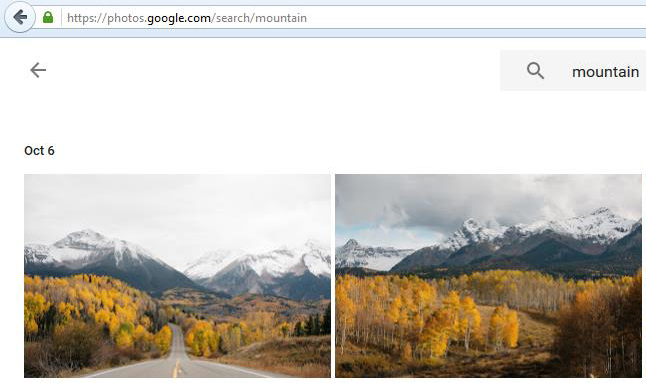 Apple is releasing an update to iOS and Mac OSX this fall which will also support image recognition on both platforms.
Here an article from MacWorld that reviews the feature in detail: Hands On with the New Photos Features. Apple's cloud photo service is called iCloud Photo Library, and you will need enough iCloud storage space to use it.
Here's a detailed article on the cloud photo services: Best Photo Sharing Sites. All of these services allow you to automatically upload photos from your mobile device if you have their application installed. Google and Flickr (if you're a subscriber) have desktop applications as well for automatic upload. If you have your photos organized on your desktop in folders, Google Photos will not save that organization, so you're better off with Flickr.
On the Mac, Flickr and iCloud Photo Library will both work with your Photos organization scheme. Google Photos will not yet upload from your Apple Photos library (just iPhoto) so, again, you're better off with Flickr or iCloud Photo Library.
Do you still need to get your photos organized? You can read my blog about photo organization here: 6 Steps for a Photo Organization Routine.
Need help with photos?